The Nicholas House Annual Fund provides flexible and immediate financial support for Nicholas House programs, helping to balance the budget, enhance programs and services for homeless families, and minimize expenses.
With your support of the Nicholas House Annual Fund, we can nimbly respond to emerging needs and opportunities for the homeless families we serve—and we can work toward our vision of making family homelessness rare, brief and non-recurring in Metro Atlanta.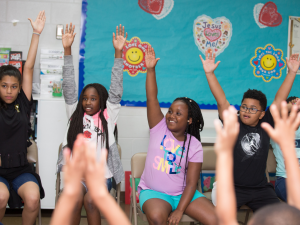 Annual Fund Giving Levels
As an Annual Fund member, your membership begins once your donations reach the appropriate giving level in a fiscal year (September 1 – August 31) and lasts for a full year.  Gifts can be one-time or cumulative.
Family Futures Society – $5,000+
The Family Futures Society honors Nicholas House supporters who help to create brighter futures and lasting self-sufficiency for the homeless families Nicholas House serves with a gift of $5,000 or more.
The Circle of Hope – $3,000+
The Circle of Hope recognizes the long-term commitment and legacy of Nicholas House founders and supporters who create hope for the homeless parents and children of Nicholas House with a gift of $3,000 or more.
The 1982 Club – $1,000+
Named for the year that Nicholas House was founded, the 1982 Club celebrates supporters who have helped Nicholas House serve more than 15,000 homeless family members since its founding. You become a 1982 Club member with a gift of $1,000 or more.
Annual Fund Membership Benefits
Listing in Annual Report summarizing Nicholas House's outcomes and milestones;
Special access to activities, events, newsletters and correspondence from Nicholas House;
Certificate of Appreciation recognizing your membership;
Commemorative lapel pin which provides distinction to your desired giving level.
Join Now
Want to join the Nicholas House Annual Fund?  Click here to visit the donate page of our website to make a one-time or recurring tax-deductible gift via credit card.
Did you know that recurring gifts help Nicholas House effectively plan for the future?  Setting up a recurring gift online is an easy way to make an impact and fit charitable giving into your budget. 
To make your gift via check, mail your check made out to Nicholas House to:
Attn: Annual Fund
Nicholas House
P.O. Box 15577
Atlanta, GA 30333
Contact
Questions about the Nicholas House Annual Fund?  Please reach out to:
Norma V. Nyhoff
Annual Fund Manager
[email protected]
404-272-1718