Sleep Out to Support Homeless Families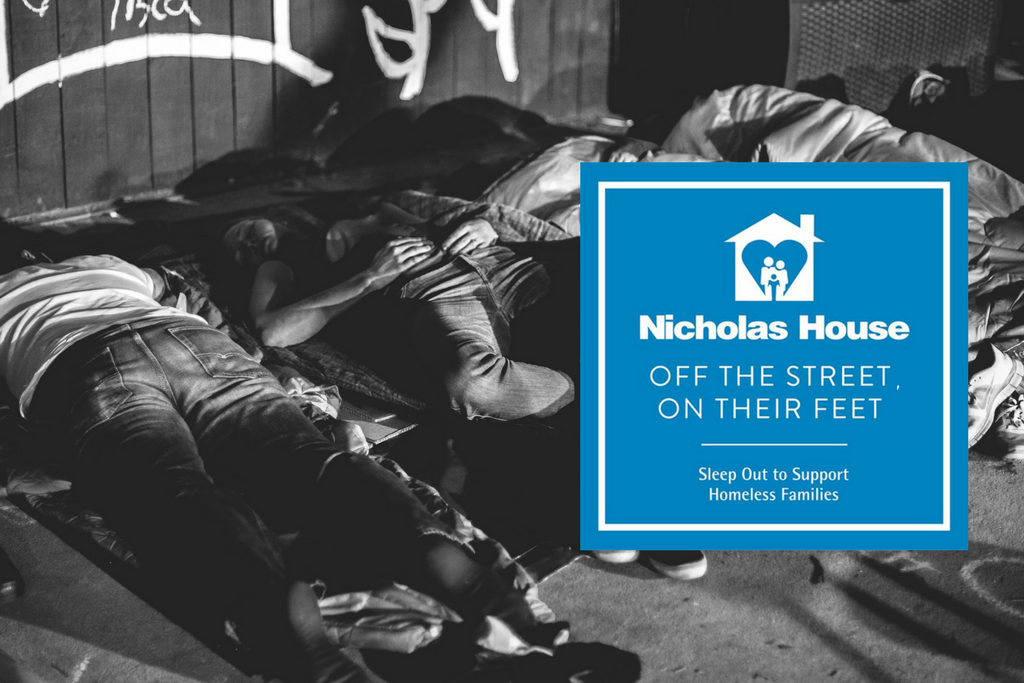 Our next Off the Street, On Their Feet event will take place on Friday, October 5, 2018.  As attendees sleep rough in our shelter yard, they will raise funds and awareness for homeless families working to get back on their feet!
Last year's event raised over $24,000 to help homeless families become self-sufficient.  This year, with your help we're hoping to raise even more!
Sponsors
Are you interested in sponsoring the 2018 Off the Street, On Their Feet: Sleep Out to Support Homeless Families?  Click here to see our sponsorship packet with information about sponsorship opportunities and contact Terrisita Terry, our Director of Development, at [email protected] to learn more.
FAQ
What do I need to do to participate?
A sincere desire to experience what it is like for homeless families to sleep outside and to participate in the spirit of the event.
Participants must be at least 18 years old.
Each participant commits to do their best to raise a minimum of $2,500 to support homeless families by the date of the event.
What will happen at the event?
Participants and guests will enjoy outdoor activities and a meal with the families of Nicholas House, participate in awareness-raising activities, hear a client testimonial, and enjoy a tour of the shelter. As the evening progresses, any non-participants will be asked to leave and the sleep out portion will begin—attendees will sleep outside in solidarity with homeless families.  Breakfast and coffee will be provided in the morning.
When and where will the event take place?
The event will take place overnight at our family shelter in Grant Park on Friday, October 5, 2018.
How do I register to participate?
As 2018's event draws closer, we will post a link to the registration form on this site.  Once it is live, you can click the "Register Now" button on our event page and fill out the form. It's as easy as that! After you register, we will be in touch to ensure you have all the support you need to raise your fundraising goal!  Want to make sure you're notified when registration for 2018's event opens?  Email Terrisita Terry, our Director of Development, and tell her you want to sign up at [email protected]
How much am I expected to fundraise?
We ask that all participants put forth their best effort to raise a minimum of $2,500 on their fundraising page. All funds raised will support costs associated with providing housing, meals, transportation, workforce development and training, access to medical care, childcare, case management and more for homeless families.  Donations are tax deductible.  The Nicholas House team will be in touch after you sign up to help facilitate the fundraising process.
What should I bring with me?
Please bring weather-appropriate clothing in layers, any toiletries or medications you may need, and your phone. We encourage you to bring your own sleeping bag, though one can also be provided to you.
Please avoid bringing any luxury items with you, including tents, pillows, or anything valuable – we ask that participants experience what it is like sleeping outside for homeless families.
How will my safety be ensured?
Our shelter yard is fenced off in a residential neighborhood and two security guards will be onsite overnight to ensure a safe experience for all participants. In case of severe weather, participants can move into an indoor location.
Can I bring someone with me?
Friends, family and colleagues are welcome to attend the preliminary events, including meal, testimonial and tour of the house but will be asked to leave when the sleeping portion of the evening begins between 9:00 and 10:00 pm. We expect all who stay the night to have registered to participate in advance and committed to their fundraising goal.
What do I do with cash or check donations?
Contact us with information about your cash or check donation so that they can be added to your fundraising page total. You can mail the gifts to us at P.O. Box 15577, Atlanta, GA 30312 before the event with a note including "Off the Street, On Their Feet donation" and your name OR bring them to the event.
Do you have other questions about Off the Street, On Their Feet?  Contact our Director of Development, Terrisita Terry, at [email protected].